Poisoning The Well
Josh Marshall
We are now down to the crunch time on the Biden agenda. And we don't know how it will turn out. But there are two aspects of the story which have been quite damaging for the Democrats. They're worth discussing.
The first is one we've discussed before but in a different context. It's largely a press failure. But it's one Democrats could do more to fix. For months we've had this intra-party debate presented as one between "progressives" and "moderates." Often that gets personalized as AOC and Bernie versus Joe Manchin or Kyrsten Sinema. This is demonstrably false. The overall package is supported overwhelmingly by Democrats in both chambers and pretty much across all factions. There are some quibbles about SALT taxes and the scope of the climate package. Some more middle-of-the-road Dems resist making some of the social programs permanent. Those are real and potentially consequential differences. But they're all negotiable. The important point is that this package is the consensus position, supported by virtually everyone. It is after all the President's agenda. Literally. And, as much as these labels confound more than they clarify, President Biden isn't from AOC's wing of the party.
Read More
| Muckraker
Imagine for a moment if it had come out during the 2016 campaign or in the first year of the Trump presidency that GOP political operatives were accused of illegally funneling Russian money into the Trump campaign.
Now, some five years later, that's precisely the accusation federal prosecutors are making in a new case in DC.
What took so long?
Read More
| News
As legislative efforts to expand voting rights hit the brick wall of the filibuster in the Senate, and as conservative courts across the country side with state Republicans' novel restrictions on the franchise, the third branch of government is preparing to fill in the gaps where it can. And for members of Joe Biden's Cabinet, homework is due.
Read More
| News
As Democratic moderates stake out ultimatums, party leadership tries to keep the agenda in one piece and the White House attempts to polish the messy optics of legislative sausage-making, staffers continue to plug away at crafting the actual reconciliation package behind the scenes.
Read More
| News
In May, a federal judge dismissed a Trumpy lawsuit over the 2020 election results in Antrim County, Michigan, where a clerk's error had briefly resulted in a miscount of the vote. "Expert" witnesses in the suit had seized on the discrepancy, which they claimed was the result of Dominion voting machine technology "purposefully designed" to tamper with vote totals.
Read More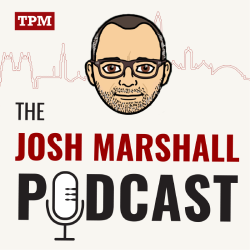 Ep. 191: Big Tent Wrangling
Josh and Kate discuss the debt ceiling, impending government shutdown and fate of the two-track infrastructure plan as Democrats try to get their house in o
MEMBER EXCLUSIVES
PRIMEWIRE